Wedding Venue in Albany, NY
---
Thank you for considering The 'Polonaise' Banquet & Conference Center at The PCC as the venue for your wedding.  Our facility has served the Albany, NY and surrounding areas for over 80 years and is the ideal place for an indoor or outdoor event!

We specialize in wedding receptions, banquets, trade shows, corporate meetings, birthday or retirement parties and holiday parties for up to 500 people.  Our unique floor plans and exceptional cuisine will create a wonderful first and lasting impression on your guests.

Enclosed you will find menus and general information for your review.  Please bear in mind that each package may be personalized to meet your unique style and budget needs.
Please do not hesitate to contact us with any additional questions or concerns.  When you are ready to begin planning your special day, contact us or give us a call at (518) 456-3995.

We truly look forward to working with you on one of the most important days of your lives!
---
Our Wedding Ensembles
The Polish Community Center is the perfect setting for your wedding and/or reception.  With our beautiful garden gazebo, for those picture perfect moments, to our elegant ballroom to fit any size.  We pride ourselves in making your wedding a day you will never forget and make those wedding dreams come true.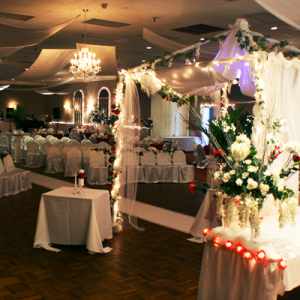 Choose us for your wedding venue!
---

We have several packages customized to your needs:

Additional Wedding Reception Items

See our printable version of the full wedding packet.

---
Wedding Reception Deposits and Booking Policies
All weddings require a $1000 deposit at the time of booking.  This deposit is non-refundable and may be paid by check, cash or credit card. The final payment is due 7 business days prior to the event.  There are no exceptions to this policy.  Payment may be made by bank check, cash or credit card.
7 business days prior to the event, a floor plan and seating plan must be provided with any additional information necessary to prepare for your event.  Any favors, place cards, guest book and pen or additional items to be used for or during the reception should be delivered at that time along with instructions on placement.
Events are scheduled with a five (5) hour time block.  Overtime fees will be based on full hour increments above the five hour limit at a rate of $500 per hour.  Please note that overtime may not always be an option and is subject to approval by management.
We request that all food selections along with your final count of guests which is your guaranteed minimum be made 7 business days prior to your event along with your final payment.  Please note that you will be responsible for the reported number of guests or the actual number in attendance whichever is greater.
All prices are subject to a 19% service charge and an 8% New York State sales tax charge. These charges are subject to change without notice.
Summary:
$1000 non-refundable deposit to book event date
7 business days prior to event
Floor & seating plan, favors, place cards, guest book & pen, etc.
Food selections (including number for each entrée) and guaranteed guest count.
Final payment (Balance Due)






by